Blue Hare Software
Executive Summary







Blue Hare Software is a manufacturing business that produces Retail, Library and Engineering software programs. The business makes revenue and profit by writing and selling quality software for Customer Assistance and Building Engineering. We will sell our products in an international market by phone and direct mail and via Internet. We believe we could capture 30-50% of the market for each product series.

Our customers are large retail stores, malls, architects, engineers, attorneys and those companies and individuals with large libraries or collections. The reason our customers will purchase our products are that Blue Hare's products are better than any other practical option.

The purpose of Blue Hare Software is to provide quality software for Personal Computers that fill needs in a unique way and in specialized markets. Initially two of the program series, StoreDir and eFlow are for niche vertical markets. One, LibFile, is for a horizontal market.

The several variations of each program will use code from each other. About $500,000 will enable Blue Hare Software to reach about $3-5M in five years. This capital will allow for marketing, office and support personnel. The principal either has experience in or has written software for each of these areas over the last 25 years.



Actual reduced sized customer screen w/o labels.



Find!

is a multi-linghal, multi-story, milti-use Unlike other store directory programs, will allow each store's personnel to update, edit or add items to the data files, including the maps. THIS PROGRAM IS FINISHED works on windows 7 thru Windows 10, 32 - 64 bit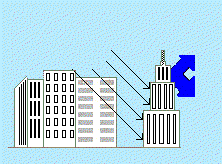 eFlow

A Computer aided engineering, thermodynamic heat flow building design and modeling program for HVAC efficiency for Architects and Engineers.




collectors

Based on one unit of find! (the basic program of the LibFile Series) is for individuls, company and larger this will be for people who collect things. The number of holdings will be about 1,000,000. It may contain images which may added using paint or other graphic editors see the manual.









There are about 36,650 grocery stores and 15,060 general stores including approximately 7,200 superstores owned by around 2,930 companies. Also, according to the U.S. Department of Commerce in 1992, in the U.S., there are about 32,700 consulting engineering companies, and 16,000 architects, about a quarter of these do mechanical engineering. Many people and companies have 5,000 or more books, holdings or collections. These are difficult to identify with standard methods thus it will be a challenge for marketing.

Sales should go from $250,000 the first year to $3,250,000 by the end of the fifth year.


Allen Harrington, Senior Partner:

Has more than twenty years experience in solving problems as an Analyst/Programmer in more than ten languages. He often worked for office products companies. Allen has had complete responsibility for writing major programs for resale on a regional or national basis. Between positions in software design and development he has worked in Customer Service in two superstores.

Current Board of Advisors:
. A Senior Financial Planner.
. An Intellectual Property Attorney with a Degree in electrical
engineering, Masters in computer science and a Law Degree.
. A business & individual Insurance Agent with 20 years computer
industry.

All sales are somewhat dependent on the economy. Blue Hare Software is less dependent on the economy, as the three initial products are each in different markets. Blue Hare should prosper in even a poor economy.

"The most valuable commodity in the coming decade is information," states Richard Razgaltis of the Battelle Memorial Institute.



Home




Website by Blue Hare Software

Free JavaScripts provided
by The JavaScript Source

https://www.blue-hare.com/execsum.html

Copyright © 1999-2017 Blue Hare Software